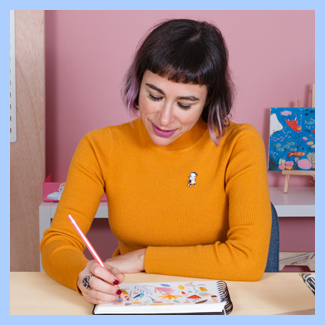 I was born in Buenos Aires, Argentina, in 1982. I am an illustrator,
graphic and pattern designer, letter artist, and a cats' friend.
I studied Design and Typography at the
University of Buenos Aires
,
where I was an Illustration and Typography teacher during 14 years.
It was my biggest training space, public education is a unique transforming place.
I also made many illustration and calligraphy workshops.
I have published books internationally;
Argentina, Chile, Mexico, USA, Spain, England, and Switzerland.
One of them selected by
IBBY
as one of the
«Outstanding Books for Young People with Disabilities»
.
My illus were part of several exhibitions,
at the
Bratislava Biennial
and at the
Cheltenham Illustration Awards
.
I made many collaborations with brands. Among several distinctions,
the pottery collection that I illustrated for Amazónica has received the
«Good Design' Seal / Sello de Buen Diseño»
 granted 
by the
Metropolitan Design Center from Buenos Aires
.
As a typographer, some of my designs were published at Google Web Fonts
and were exhibited at the
Bienal Latinoamericana de Diseño
(Latin American Design Biennial)
and at
Tipos Latinos (Latin Types)
.
And finally, together with Ángela Corti and Laura Varsky,
we founded the
With Love from Argentina
 collective,
in order to expand the Argentinian pattern design market.
Paper, gouaches, markers and pencils are materials that I used the most.
In my compositions I like to include curious characters and vibrant colors
that live in dynamic spaces full of nature.
Currently live and work in Madrid.
—
CONTACT ME:
info@anasanfelippo.com
anasanfe@gmail.com
—
BEHANCE:
behance.net/anasanfelippo
—
INSTAGRAM:
anickanita
—
ARTIST REPRESENTATION:
Astound.us
Kate Kendrick kate@astound.us